The Department of Transportation isn't exactly known for its simple hiring process. Anyone who wants to work for the DOT needs to become certified, acquire a special identification number, and receive a thorough physical examination. In many states, truckers need to acquire a DOT medical card (more accurately known as a Medical Examiner's Certificate). These requirements are there for good reason – they want safe, reliable drivers on the road.
If you've been taking buprenorphine (Suboxone®), it's natural for you to wonder whether or not you'll be able to get (or keep) your DOT license. At ReVIDA Recovery®, this is a question we get a lot. It's common for those in recovery to have buprenorphine (Suboxone®) prescriptions, and you're not alone. Let's talk about what this prescription means for your employment.
Medications That Will NOT Disqualify a Commercial Driver
It's incredibly common to have a prescription for something. In fact, 131 million Americans use prescription drugs. The DOT knows this, and they're not anti-prescriptions. They're not going to test for all prescriptions, either. They're only looking for drugs that may inhibit your ability to do your job.
The DOT will not disqualify someone for taking the following prescription medications:
Lunesta®
Ambien®
Zoloft®
Escitalopram®
Prozac®
Propranolol®
Having depression, anxiety, or insomnia does not automatically disqualify someone from working as a truck driver. Other medical conditions, such as bipolar disorder or ADHD, are not disqualifying, either. Many of the medications used for these disorders aren't even tested.
It's important to keep in mind that many others before you have had similar questions and experiences. Before 2017, methadone was considered a disqualifier for a commercial license, and that's no longer the case. Because methadone and buprenorphine (Suboxone®) are both used to treat OUD, it was assumed that buprenorphine (Suboxone®) was not okay, either. Since 2017, things have changed.
Drug Use and the DOT
There are some medications that will cause the DOT to disqualify commercial drivers. The DOT tests for drugs that are mind-altering or can affect your ability to operate a vehicle safely and efficiently.
All states test for the same 5 classes of drugs:
Marijuana (THC)
Cocaine
Opiates and semi-synthetic opioid analgesics (morphine, codeine, oxycodone, hydrocodone, Vicodin etc.)
Amphetamines
Phencyclidine (PCP)
Along with the preliminary testing required for your DOT medical card, The DOT requires random drug testing. They may test as often as 6 times in the first year for new employees. If your employer or any of your supervisors suspect you're under the influence of alcohol or drugs, they can notify the DOT. If you've struggled with substance use, follow-up testing can also take place when you return to work from MAT (or any recovery-related programs). A Substance Abuse Professional (SAP) performs this testing, and it needs to be under direct supervision.
If you complete a drug test and you test positive for any of these 5 drug classes, DOT regulations state that you'll need to be removed from any safety-sensitive jobs. You could also face other consequences depending on your company's policy. It could mean losing your license or DOT certification.
Is Suboxone® Disqualifying for DOT?
The answer to this question isn't always cut-and-dry. Different companies (and even different states) have their own set of standards upon hiring. Currently, DOT does not disqualify someone for taking buprenorphine (Suboxone®), but there are conditions surrounding that.
If medication is being taken for pain relief or as recovery maintenance, you'll need a note from your prescribing physician. You can take buprenorphine (Suboxone®) and still qualify for the DOT, but they're going to look at a few things. First of all, they'll want to know why you're taking it. If a driver has a "current" diagnosis of opioid use disorder, that could be disqualifying. If you're in "remission" and you're taking buprenorphine (Suboxone®) to prevent further opioid use, they'll likely allow it.
In other words, they'll be looking at your condition – not necessarily your use of buprenorphine (Suboxone®). If they believe your condition is being properly treated and if your physician provides proof of that, they won't disqualify you.
For the most part, many medications can be considered as long as your physician signs off on them – even medications the DOT tests for.
There are still some conditions that are restricted when it comes to working for the DOT. If you have a history of seizures, for example, that will be taken into consideration when it comes to your certification. You would need to receive a Federal Seizure Exemption to be considered. But again, simply taking an anti-seizure medication will not disqualify you. It will depend on the circumstances.
Can Employers Not Hire You for Being on Suboxone?
The DOT is not going to disqualify you for taking buprenorphine (Suboxone®).
Buprenorphine (Suboxone®) is not illegal. No matter where you work, the chances of you not getting hired for being on this medication are slim-to-none. An employer cannot legally discriminate against you for taking this medication, just like they can't discriminate against you for having a substance use disorder. But again, this is conditional. Your employers will have a set of expectations, just like the DOT. Different companies and states have their own regulations.
If you're in recovery and you're following your doctor's care plan, it likely won't be a problem. If you're still struggling with an "active" addiction, meaning you're still taking illicit substances while you're on buprenorphine (Suboxone®), an employer would be within their rights to not hire you.
Relapsing on illicit drugs can also be grounds for termination. In other words, just because your employer supports your recovery, that doesn't mean they'll support your relapse. As most of us know, recovery isn't always linear, and relapse happens. But from a vocational perspective, you're not protected. Fortunately, buprenorphine (Suboxone®) has been proven effective in preventing episodes of relapse, especially when you're in close contact with your doctor and following your care plan.
Refusing to Test for Suboxone
The standard 5-panel testing performed by the DOT won't include buprenorphine (Suboxone®). Even expanded, 10-panel tests aren't looking for buprenorphine (Suboxone®). It would take a completely different kind of test to find it, like a liquid chromatography-tandem mass spectrometry. Because this test is pricey, it's rare for any employers to use it.
It's normal to be nervous about whether or not the DOT will find out about your medical background, but here's the thing: you'll still need to tell them about it. A DOT medical examiner will need to go over your list of medications. This is required for your DOT medical card. The good news is that you aren't going to be penalized for being in recovery. You'll still be allowed to get your DOT commercial license. Refusing to test for buprenorphine (Suboxone®) isn't going to work – they'll need to know either way.
Addiction Treatment at ReVIDA Recovery®
If you or someone you love is interested in treatment for a substance use disorder, we'd love to help. ReVIDA Recovery® promotes safe and healthy communities by empowering individuals to reclaim their lives from opioid use disorder. One of our treatment options might be right for you.
Our medically supervised MAT program helps quiet the mind and prepare your body for the treatment and support for long-term opiate addiction. Buprenorphine (Suboxone®) is one of the most effective and proven therapies to reduce the cravings for opioids. Unlike Methadone, this treatment can be prescribed in a doctor's office and permits our staff to prepare you for the more important work of one-on-one therapy and strategies for daily recovery.
To learn more about the Buprenorphine (Suboxone®) for treatment of opioid use disorders at ReVIDA Recovery®, call us today at 423-631-0432 so we can help you reclaim your life!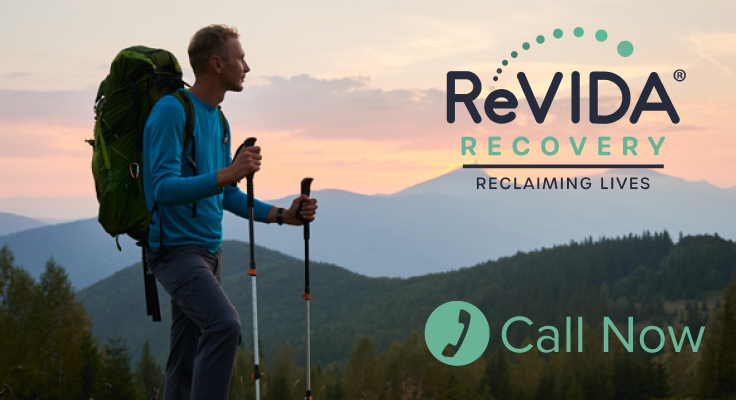 Frequently Asked Questions
Can an employer ask you if you are taking Buprenorphine (Suboxone®)?
Yes. Any DOT drivers need to have an updated list of medications they're taking for their medical card. Taking buprenorphine (Suboxone®) does not automatically disqualify you from obtaining a DOT license. 
https://www.revidarecovery.com/wp-content/uploads/Suboxone-Disqualifying-for-DOT.jpg
414
736
ReVIDA Recovery
https://www.revidarecovery.com/wp-content/uploads/revida-logo-registered-300x227.png
ReVIDA Recovery
2022-12-02 16:57:59
2022-12-02 17:46:34
Is Suboxone Disqualifying For DOT